Olga Ranzenhofer - violin, artistic director
Olga Ranzenhofer graduated with an Artist Diploma from the University of Cincinnati after studies with the renowned professor Dorothy DeLay and members of the LaSalle String Quartet. Principal second violin of the Orchestre Métropolitain from 1989 to 2001, Olga Ranzenhofer founded in 1997 the Molinari String Quartet. Olga Ranzenhofer was concertmaster of the Société de musique contemporaine du Québec from 1994 to 2004 and held the same position with the Montreal Chamber Orchestra from 1987 to 1995. She has participated in many concert tours and recitals, television and radio broadcasts and compact disc recordings in Canada, the United States, Europe and Asia. She was also a member of the Morency String Quartet from 1987 to 1997. Olga Ranzenhofer is recognized as a leader in contemporary music in Québec and has commissioned many works for violin and piano and for string quartet. In November 2000, she was awarded the Opus Prize of Personnality of the Year by the Quebec Music Council. In the fall of 2009, she was named Canadian Music Centre Ambassador in recognition of her exceptionnal contribution to the Canadian music scene over the years.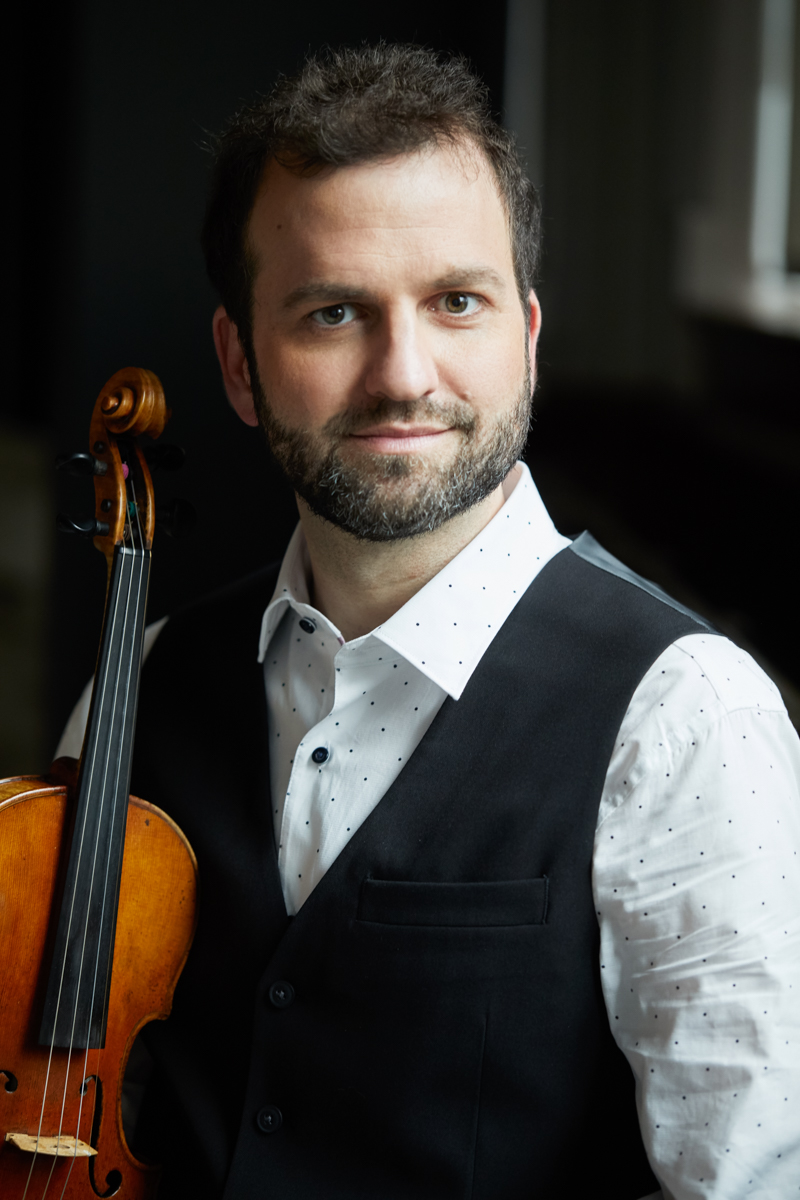 Concertmaster of the Orchestre symphonique de Laval, member of the Quatuor Voxopuli, Antoine Bareil is justly portrayed as a charismatic musician by The Montreal Gazette.
In 2001, an impressed jury unanimously awards Antoine Bareil le prix avec grande distinction du Conservatoire de musique et d'art dramatique du Québec, along with his post graduate diploma. Having thus completed his studies at the Conservatoire de Trois-Rivières, the violinist sharpens his musical skills in Austria at the Universität Mozarteum Salzburg.
Soloist, he is invited by numerous orchestras, in Canada and abroad. His timeline of concerts in no less than fifteen countries, his collaboration with internationally acclaimed composers and musicians, are best remembered for his 2002 performance of Philip Glass' works in the composer's presence, his 2003 performance of the mythical Karlheinz Stockhausen Helicopter String Quartet along with the Stadler Quartet, and more recently his appearance in Poland as a special guest of the International Henryk Wieniawski Violin Competition.
Composer and musical arranger, he has two short films and a dozen albums to his credit. Among the latter, the first of the three CDs recorded and produced with his former group Quartango wins the Juno Award 2015 for best instrumental album.
Antoine Bareil performs on an 1840 Jean-Baptiste Vuillaume violin and a François Nicolas Voirin bow, both graciously lent by Canimex inc. Drummondville (Qc) Canada.
Frédéric Lambert received, in 2011, a doctorate degree in viola performance at McGill University under the direction of Professor André Roy. His studies have allowed him to play in master classes for Robert Vernon, James Dunham, Steven Dann, Bruno Pasquier, Régis Pasquier and Ani Kavafian. Frédéric Lambert was a founding member of the Lloyd Carr-Harris String Quartet from 2002 to 2007. Grand Prize Winner and Gold Medal of the 2005 Fischoff Chamber Music Competition and winner of the 2004 Sir Ernest MacMillan Memorial Foundation, the Lloyd Carr-Harris String Quartet rapidly established itself as one of the most important string quartets in Canada, and participated in many competitions and festivals in Canada, France, England, Italy, United States and also Australia. Frédéric Lambert teaches the viola at McGill University as well as at the Université du Québec à Montréal. 
Since 2012, he is music critic for the radio show 'Médium Large', hosted by Catherine Perrin, on Radio-Canada's ICI Première network. 
Mr. Lambert joined the Molinari Quartet in the summer of 2007.
Pierre-Alain Bouvrette – cello
A graduate from the Montreal Conservatory and the Eastman School of Music in the studio of Pamela Frame where he was teacher assistant, Pierre-Alain Bouvrette was also a prize winner at the 2003 International Chamber Music Competition of Val Tidone in Italy. A guest participant at the Chamber Music Festival of Costa Rica on two occasions, he was also invited to join the Takacs Quartet at the 2001 String Quartet Seminar in Boulder, Colorado.
Pierre-Alain has collaborated with artists such as Malcolm Lowe, the Ying Quartet and Oleh Krisha. An active chamber musician, he is also a member of the Ponticello Cello Quartet since 2007 and has joined the Molinari Quartet in the summer of 2007.
Pierre-Alain plays an instrument made in 1904 in Naples, Italy by Vincenzo Postioglione.